Our Story
{ WINE IS A CELEBRATION }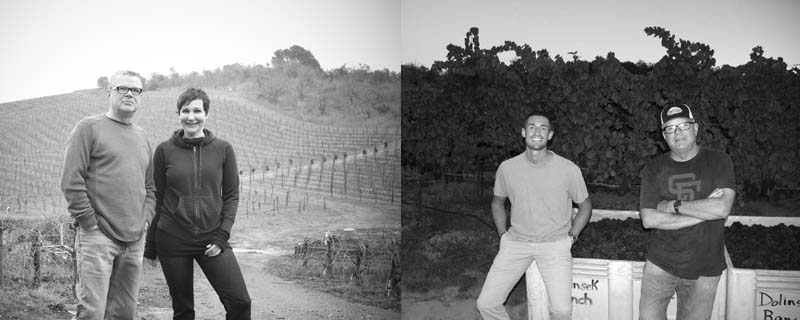 Portalupi Winery began many years ago in a small coastal town in Northern California where Tim Borges and Jane Portalupi first met as children. Destiny prevailed, they reunited in 2001 and were married. With Jane's background in retail marketing and Tim's 40 years of experience in winemaking in California, they decided their talents were the perfect complement to start Portalupi Wines. Portalupi Winery's first release was in 2002 with a long-term goal to deliver exquisitely crafted wines worthy of their generation's history of Italian winemaking.
Their inspiration comes from their Nonna, Marina Portalupi, who immigrated to Northern California from Piemonte, Italy. She brought with her more than just her knowledge of winemaking. She also brought along the traditions and beliefs of how wine was meant to be enjoyed regularly with friends and family. Each wine in the Portalupi portfolio is made with the passion and a love of bringing people together to enjoy the simple things in life. Tim and Jane believe that all of life's problems can be solved with great food and wine. Portalupi is a tribute to the original intent of the Cal-Ital lifestyle established by their Italian ancestors when they settled in Northern California.
Since 2002, Portalupi has grown their portfolio of wines to include Italian as well as traditional wines with a focus on Zinfandel, Barbera, Pinot Noir, Charbono, and Vermentino. Portalupi strives to maintain a portfolio of small artisan growers who share their passion of expression and they intentionally make wines that capture the essence of each appellation.
Portalupi launched Vaso di Marina, an Italian blend bottled in a milk jug, when they opened their tasting room in 2011. The origin of Vaso di Marina goes back to Marina Portalupi, who first bottled her wine in Italy for the village in a milk jug. Just as she had done in Italy, when she opened Luna Park Grocery in San Jose, California, she kept a small barrel of her vino di tavola to serve in her store. And every day, customers would bring in empty milk bottles, or whatever vessel they had, to fill up and take home. It is in honor of Marina and in her spirit that Portalupi makes Vaso di Marina.
Portalupi Winery has grown since 2002 and in 2011 opened a tasting room at the heart of Northern California, in Healdsburg. In the 3 ½ years, the reception by the wine community and the general public has established Portalupi as a boutique, family wine destination.